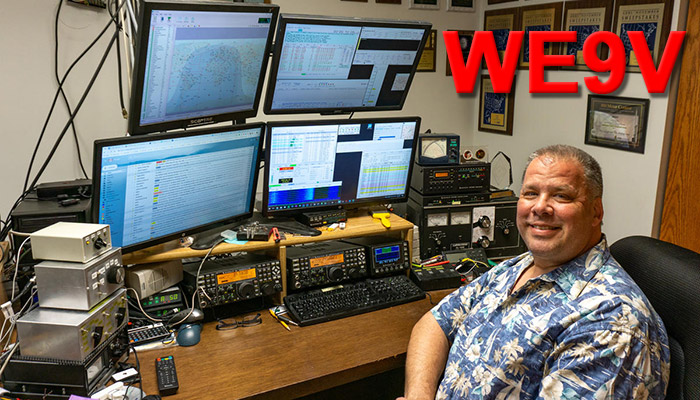 Hi, my name is Chad and allow me to tell you a little about myself and a few of my hobbies.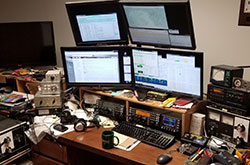 Chad the Ham
I'm a "ham" (amateur radio operator, or shortwave radio) and my callsign is WE9V. I've been a ham since 1987 and I enjoy HF contesting which is talking to as many people as possible during a weekend as well as DXing (contacting countries other than my own over the radio). I've contacted over 7500 people in one weekend, and have contacted over 350,000 people total. Click here to more about my ham radio activities and radio station. You can even see my *live* (non-Contest) QSO stream at my Clublog LiveStream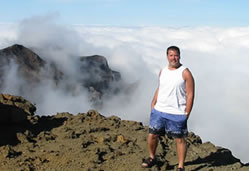 Chad the Traveler
I've had the opportunity to travel to a few places (about 30 countries) around the world, both for work and for pleasure. Click here to see some of the places I've been to.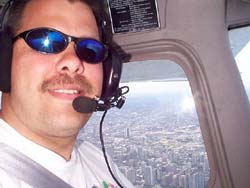 Chad the Pilot
One of my other favorite hobbies is flying airplanes. I got my Private Pilot's license in 1997 and then earned my IFR certificate in 1999. I mostly fly for fun in the area, but I have flown several times with KA9FOX down to the Dayton Hamvention. While you are always considered a licensed pilot, I am no longer "current" and haven't flown in many years. Click here to see a few more pictures about flying.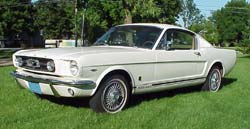 Chad the Gear Head
One of my other hobbies has been restoring 1960's muscle cars. My latest project was a 1965 Mustang GT Fastback. After restoring it back in 1995, I drove it until the end of 2000. I wanted something new. Something with air conditioning or convertible. Check out some of the restoration and finished product photos.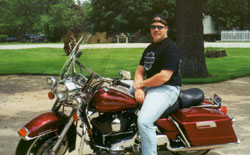 Chad the Biker
I finally decided on the ultimate convertible. It is a 2000 Harley Davidson FLHR-I, otherwise known as a fuel-injected Road King. My wife didn't want me to get a motorcycle, but I've been known to go against people's wishes before. I enjoy driving it much more than the Mustang and I drive it much more often as well, as I'm not afraid to leave it in parking lots. (Who would mess with a Harley?) Check out more photos and a story about my accident.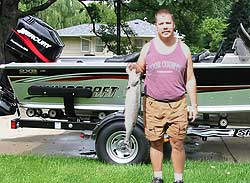 Chad the Fisherman
During the summer, I don't do much radio, so I enjoy a past time that I've been a part of since a very young age. I really enjoy fishing. In 2003, I purchased my first new boat, an Alumacraft Tournament Pro 175CS. Ten years prior, I owned my first boat, a Ranger bass boat on which I fished on the Mississippi River when I lived in LaCrosse, WI. I try to fish as much as possible, and go out on local inland lakes, rivers, and Lake Michigan, as well as ice fishing. Here I'm pictured with a fair size Coho Salmon caught on Lake Michigan. Check out my fishing photos.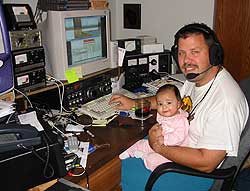 Chad the Dad
I welcomed my one and only child into the world a few years ago Things have changed quite a bit since then. Contesting and other hobbies have slowed down for her early years. Now that she's a teenager, I have more time for my hobbies again, and enjoy doing them with her when possible.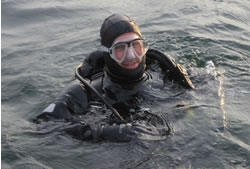 Chad the Scuba Diver
On one of my ham radio trips down to Trinidad and Tobago, I became scuba certified. I love it! I try to dive often on the local lakes and go someplace warm (caribbean) about once per year or so. I'm also a member of the Kenosha County Underwater Rescue Team. Check out more dive photos.

If you need a QSL, even for my home call, please send a SASE to my manager, WD9DZV. I also upload all QSOs to LOTW and eQSL. If you want to send me a message, e-mail me here.
73, Fly Safe, and Ride Safe!
Chad
Home | Contest Scores | DX Stats | Station Description | Antennas
Fishing | Flying | Ham Radio | Harley | Mustang | Scuba | Travel